Products tagged with 'professional flashlight for diving'
ACEBEAM D20 is a solidly 21700 5100mAh-based diving light for output strong and long run time. The rechargeable 21700 battery with a built-in micro-USB charging port makes it is convenient of not having to carry around another device. Being utilized with a powerful CREE XHP35 HD LED, D20 emits a maximum output of 2700 lumens. The versatile modes of output are easily accessible by simply pressing the side switch. The smooth reflector provides an extreme reflective effect and an maximum focus beam distance up to 311 meters. This diving light is equipped with advanced electronics, machined from aircraft-grade aluminum and with the ability to dive to an incredible depth of 200 meters. ACEBEAM D20 is a fantastic option for diving trips.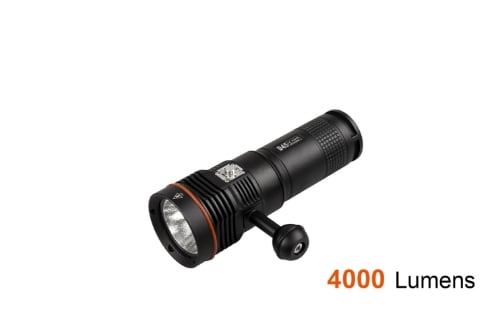 ACEBEAM D45 is the most powerful led dive light, featuring max of 4000 lumens! The light is controlled by a reliable type 316 stainless steel push-button ON/OFF switch system with 4 levels of brightness. It comes with a sturdy Goodman-style glove for hands-free operation,a standard 1' ball joint for easy camera set-up.D45 is the perfect light for a diver serious about their illumination.