LED Bike Light with Rectangular Spot beam
Power and portability are the name of the game when it comes to the Acebeam Bike Lights, a powerful LED bike light. This light mounts securely to the handlebars of any standard bicycle and provides high output illumination for rides in low light or late night conditions. Utilizing a powerful CREE LED and an integrated optical PMMA lens, the beam of this light can reach long beam distance, and with multiple modes can be dialed back to suit your conditions. A single button interface will keep you from fumbling around with multiple buttons, keeping your focus on the road or trail. Additionally, the rectangular beam spot is specifically designed to light up the area ahead of you without blinding pedestrians or oncoming traffic. Acebeam bike lights are the best choice for professional riders.
The ACEBEAM BK10 led bike light is specially designed to be the brightest safety light in accordance with STVZO standards. Being equipped with XHP35 HI LED, powered by the latest 21700 cells with a super high capacity of 5100mAh, this impressive illuminator can emit up to whopping 2000 lumens brightness. The optical PMMA lens makes the beam spot with high light efficiency, eligible for the latest international spot requirement. The rectangular speckle does not only illuminate the entire ride but also focuses the beam on the road without dazzling the oncoming pedestrians and drivers for safety. The single button allows the easy and intuitive operation to cycle through any outputs; the Micro-USB function at the backside is for quick and convenient recharging. IP65 rated protection assures BK10 with rain resistance and dustproof. ACEBEAM BK10 provides you with a professional and complete bicycle lighting solution.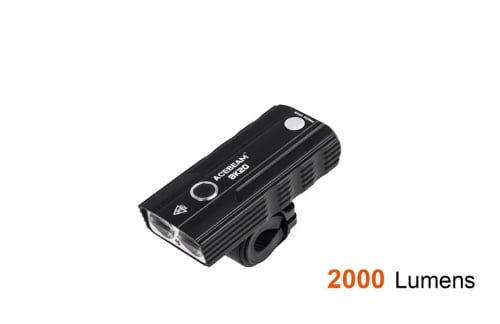 Acebeam BK20, a newly designed compact bike light, has a super bright light output to 2000 lumens, which is achieved by 2*XHP35HD LEDs; and a maximum beam distance of 180 meters. The decent bike light BK20 is powered by 2*21700 batteries and pumps out 2000 lumens at max.. In addition, the featured dual beam system gives a very nice light beam, and lights up the front road without affecting others. BK20 is charged via a handy micro USB charging cable which is compatible with a wide range of mobile phone chargers etc... The well-built professional BK20 is the primary light for the night time riding.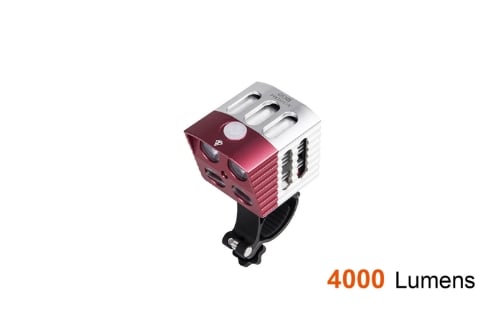 The powerful and ultra-compact bike light Acebeam BK30, contains 4*XHP35 HI LEDs, and produces a maximum output up to 4000 lumens. Acebeam BK30 is powered by a 4*18650 rechargeable battery pack with over-discharge, overcharge and overheat protection to ensure safety operation. The featured exclusive Dual Distance Beam System assists with an upward beam reflection in front of the bike, makes the BK30 with 100 meters long range illumination. The rechargeable bike light Acebeam BK30 is prepared well for your outdoor cycling adventure.