Products tagged with 'led dive light'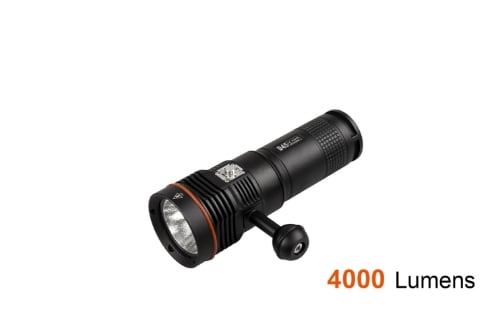 ACEBEAM D45 is the most powerful led dive light, featuring max of 4000 lumens! The light is controlled by a reliable type 316 stainless steel push-button ON/OFF switch system with 4 levels of brightness. It comes with a sturdy Goodman-style glove for hands-free operation,a standard 1' ball joint for easy camera set-up.D45 is the perfect light for a diver serious about their illumination.
The solid and compact ACEBEAM D46 is a powerful led dive light that is equipped with a CREE XHP70.2 LED and generates an excellent brightness of up to 5200 lumens. It emits a max beam distance of 398 meters. D46 is powered by 4*18650 batteries, which allows a maximum runtime of up to 15 hours at the lowest brightness level of 450 lumens. The versatile modes of output (Mode 1 - Mode 4, SOS) are easily accessible by simply rotating the side switch. D46 is designed for a depth of up to 200 meters. There is a standard 1 ball joint diving arm for easy camera set-up. D46 is not only a diving light but also can be used on land as a searchlight too. D46 is a perfect light for different illumination.